Guardian Mobility Inc. Summer Sale 2023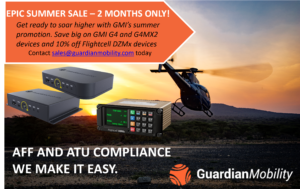 Don't Miss Out on Our Summer Sale and Exciting Product Launch!
Get ready to elevate your aircraft tracking and communication capabilities with Guardian Mobility Inc's exclusive summer sale and upcoming product launches! We are delighted to share the details of our irresistible offers and cutting-edge advancements designed to enhance your operations.
Summer Sale: July 1st to August 31st, 2023
During this limited-time promotion, we are thrilled to offer you unbeatable discounts on the following products:
G4 and G4MX2:

Option 1: No upfront G4 or G4MX2 device cost with eligible 2-year service subscription contracts.
Option 2: Save $200 on the G4 and $500 on the G4MX2 with eligible service subscription plans.

Flightcell DZMx:

Enjoy a generous 10% discount on Flightcell DZMx devices with eligible service subscription plans.
Coming Soon: AXIS Platform and G6 Iridium Certus®
Exciting developments are on the horizon at Guardian Mobility Inc! We are thrilled to announce the upcoming launch of two groundbreaking advancements:
AXIS Platform: Experience the future of mapping and command and control with our modernized AXIS Platform. Boasting enhanced performance and usability, AXIS offers a range of incredible features, including:

Situational Awareness and fleet management dashboard view
Optimized for smartphone use
Enhanced user experience designed by operators
Familiar mapping features with improvements
Enhanced messaging capability

G6 Iridium Certus®: Pre-orders are now available for the G6 Iridium Certus® terminal, with deliveries starting in Q4 2023. This state-of-the-art terminal utilizes a bi-directional mid-band 88kbps CST Modem, enabling seamless communication through the Iridium Certus® Satellite network. With multiple interfaces and robust design, it is the perfect solution for commercial and military applications that require critical data and communication.
To learn more about our summer sale, upcoming product launches, or to place your order, please contact our sales team at sales@guardianmobility.com or complete the below form. Our dedicated representatives are ready to provide you with all the details and assist you in choosing the perfect solution for your needs.
Don't miss this opportunity to save and stay ahead of the competition with Guardian Mobility Inc. Upgrade your fleet today!
FIND OUT MORE ABOUT THE GMI SUMMER SALE