Guardian Mobility Broadcast System (GMBS)
This unique service ensures a broadcast short message arrives anywhere in the world within 15 seconds and is used when terrestrial networks cannot be relied on in the event of an emergency.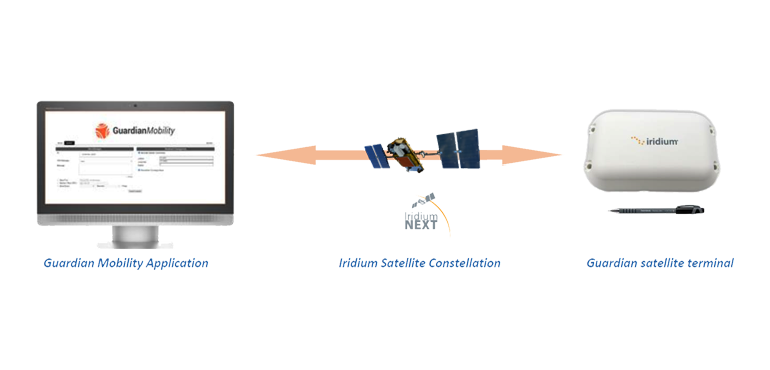 Key Features
Broadcast messages to unlimited devices simultaneously within ≤15 Secs
Global coverage
Low power consumption
Cost effective
One-way transmissions only
Higher satellite power output
Selectable global delivery areas
High security
Ease of use – Web Platform
Description
The Guardian Mobility Broadcast System uses the Iridium Short Burst Data satellite network to provide global coverage. A Web-based application allows a message or small data set to be sent to a pre-configured group of devices using a customized broadcast service.
Using GMBS, you can send an alert to thousands of locations simultaneously where no cellular coverage is available or has been compromised, and send critical command and control instructions with the confidence that the data will be received no matter what the network conditions. You have the power to send an alert of an imminent Tsunami or earthquake to thousands of locations simultaneously without delay where no cellular coverage is available. In the world of Internet of Things (IOT) reliable data links are fundamental to success.
The GMBS system can make the difference between life and death in an emergency in locations where there is no cellular coverage or when cellular networks are congested or compromised. Success of your IOT command and control applications is assured with the Guardian Mobility Broadcast System.
GMBS devices are compact, low cost, portable and have battery backup. Your data gets to its destination quickly and reliably when terrestrial communications are down.